Niche Website Success Review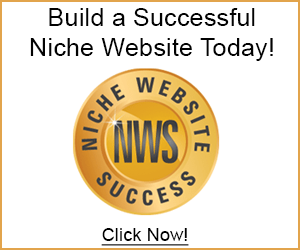 I started following Lisa Irby several years ago, but I never purchased any of her products because I was making money online and at the time I didn't feel I needed the help. Of course that was prior to the infamous zoo updates–Panda, Penguin, and various other Google algorithm changes that have come along.
Combine this with the demise of Squidoo, and I've seen my online income dwindle to a tiny fraction of what it used to be. So, I humbled myself and decided I needed to re-learn how to make money online. I purchased Lisa Irby's step-by-step instruction eBook on how to create and promote a niche website–Niche Website Success.
Lisa's blog and podcast channel are quite informative, so I questioned if the eBook would just be a regurgitation of information she already has out there. It's not—Niche Website Success goes into more detail. Specifically she promises to teach you about the following:
Website Building
Blog vs. static website
Keyword/Topic research with Google AdWords
Choosing the best domain name
Affiliate Marketing conversion tips
Google AdSense tips
Website Building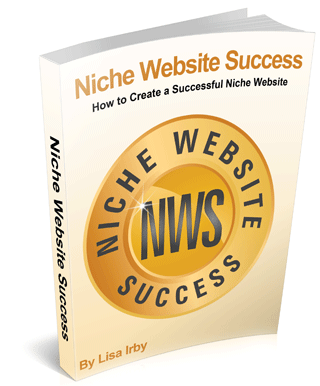 Many people choose to build their sites with WordPress. It's versatile enough to be used for a static site or a blog. However, there are key things—technical things—you need to do when setting up your site that will increase its chances for success or failure. Lisa goes into these technical issues from a layman's point of view which is good because while she's a techie, I'm not.
Blog or Static Website?
Blogs are popular, but are they always the best choice? Are static sites too Web 1.0? The answer may surprise you. Lisa's shares her own experience about which of her sites pull more traffic and more importantly why. It gives me pause for thought about projects I'm thinking of and which format will better serve them.
Keyword/Topic Research with Google AdWords
Pick the wrong keyword and your project will fail, so you can't place too much emphasis on how to do keyword research. This section offers tips on keyword research using free tools and offers a paid alternative. There are also suggestions on how to capitalize on opportunities your competition misses.
Choosing the Best Domain Name
Your domain name is a ranking factor that Google takes into consideration so it's important to get it right. There's a lot of misinformation out there about domain names, and there is an entire chapter devoted to this along with choosing a host as well as a registrar.
Affiliate Marketing Conversion Tips
There's millions of ways to monetize your site, but do you know the best way to go about it? You want to make your followers an offer that they see value in. This means being selective in your choice of affiliate products as well as placement of ads. Or should you create your own products? Chapter 12 goes into detail about all of this and also shows you how to maximize your conversions.
Google AdSense Tips
AdSense is not what it used to be. It's harder to get approved and easier to get dumped. So, you want to make sure you're using it correctly and to the best of your ability. Lisa gives tips on how to get approved and some conversion strategies with examples. She also gives some alternatives to AdSense.
We all know gurus who put out filler information—stuff that sounds worthwhile on the surface, but is actually useless when you attempt to implement it. That's the polar opposite of Niche Website Success. The eBook is chock full of solid information you really need to know—the kind of stuff you ask yourself when you're trying to set up a site and there's a 100 different ways to do something and you have no idea if you're going about it in the right way.
Lisa is very transparent and easy to find. She has a blog, YouTube channel, podcast, and forums. You'll also find her on Facebook and Twitter as well. One thing I admire about Lisa is that she tells the truth—the rarest of qualities among gurus 😛 Check out this video in which she talks about some of Google's shadier practices. Although lots of people grumble, I have yet to see another guru make mention publicly of the things she talks about here—
If you're looking to get started with your own niche web site or haven't had success in your niche, you'll find value in this eBook.  There may be a few things you already know, but with 16 chapters and 160 pages there will be a lot you don't know. You can click here to purchase Niche Website Success.
Share with your friends
To report this post you need to
login
first.